A good friend asked me this question the other day, "What do I need to do now so I can take my family of four to Hawaii for free next year?" It's a great question and she is right to ask now to have the time to earn the points needed for next year. This plan does not include food and fun but here are a few strategies to take care of the biggest expenses–airfare and hotel–for a family trip to Hawaii for free…
Credit Card Bonus Sign Up Points are The Easiest Way to Travel for Free
My friend doesn't really like credit cards but the reality is that if she wants a free trip in a year, unless she wins the lottery or a travel contest, it probably ain't gonna happen. The "credit card game," as I call it, is very simple BUT you must be organized and you must be financially disciplined. (You can read my introduction to earning points here.)
Fly to Hawaii for Free
Several cards will get you to Hawaii but almost all of them have an annual fee of $69-89 per year. Deals come and go but right now the Citi Platinum Select AAdantage Visa is giving 50,000 bonus miles after spending $2,500 within the first four months and the annual fee is waived the first year. Click on this link and scroll down to see more details and apply. For this family of two adults, one child age 3 and one baby, both the husband and wife will have to apply for the cards for a total of 100,000 miles. American Airlines offers coach seats to Hawaii for 17,500 for the lowest MileSAAver off-peak awards. The infant can go for free when held on a parent's lap. This family actually needs 105,000 for 3 round trip tickets but because each card gives 1 point per dollar spent on the card, by reaching the spending requirement, they will have the extra 5,000 needed. These miles don't post in your account until you have met the spending requirement and paid the credit card bill so do that as soon as possible so you can book the MileSAAver Award.
Another way to beef up your American Airlines frequent flyer account is putting some spare savings into Fidelity Investments accounts. American Airlines offers miles for starting a new non-retirement account at Fidelity Investments. Bob and I have done this several times and gotten quite a few miles. The catch is it needs to be new accounts that you will keep for at least six months, although I have found that the miles actually post to your account in a few weeks after you fund the account. You can invest the money or leave it as cash. As you can see by the chart below, if you have $50,000 in savings it's better for you and your husband to each open $25,000 accounts to earn a total of 30,000 miles instead of 25,000 miles.
| Deposit: | Earn: |
| --- | --- |
| $100,000 | 50,000 miles |
| $50,000 | 25,000 miles |
| $25,000 | 15,000 miles |
Staying for Free in Hawaii
The Marriott Rewards card gives 50,000 points for spending $1000 in the first 3 months with the annual fee waived in the first year. To have at least 4 free nights both parents will have to apply because the lowest category is the Courtyard King Kamehameha's Kona Beach Hotel in Category 4 for 20,000 points, or several hotel options in Category 5 at 25,000 points per night–Courtyard Waikiki Beach, Courtyard Kaua'i at Coconut Beach and the Waikoloa Beach Marriott Resort & Spa on the Big Island. Apply through this link.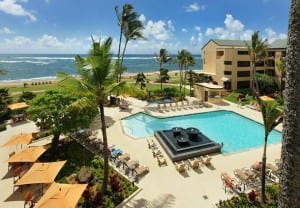 (UPDATE as of April 10, 2013–I discovered today that an old link is still active for the Priority Club Select Visa with 80k points after your first purchase (no spending requirements!) and the annual fee waived the first year. Additionally, there are other benefits of this card. If both the husband and wife get this card that's 160,000 points that can be used for 4 nights at the Holiday Inn Resort Waikiki Beachcomber. Here is my detailed description and link for the Priority Club Select Visa.)
There are other hotel credit card options but they all either have an annual fee or the bonus is too low to have enough points for a worthwhile trip to Hawaii. But this can change when new offers come so keep your eye out.
Another option to stay free in Hawaii is to exchange homes if you can find another homeowner to swap homes with. My husband and I have done this several times to other locations through HomeExchange.com. However, to get a swap with a family who lives on or near the beach in Hawaii, you better have a comparable home to entice them to swap. Here is more information about exchanging your home to travel for free.
A Plan for a Nearly Free Vacation in Hawaii
The above plan will get a family of four to Hawaii for 4 nights and they will only have to pay a small amount for taxes and fees. In all, getting four credit cards will probably save them over $1000 in airfare and over $500 for hotels. Not to shabby for taking 15 minutes out of your day to apply for four credit cards online and then put your usual daily spending(groceries, gas, cell phone, health insurance, dining out, Starbucks, movies, remodeling, gifts, etc) on these cards–in this case a total of $7000–over the course of a few months. It might sound like a lot of money to spend but I'll bet a  typical family of four spends at least $2333 per month.
Can you picture playing on the beach with the kids? How about a Mai Tai on the balcony after they have gone to bed? Start now and have fun planning!
Aloha!