We just got back from a quick trip to Santa Fe, New Mexico. Our primary reason for taking this trip was because Bob and I are flying free all this year with Southwest Rapid Reward Miles and Bob's companion pass. Our goal for 2014 has been to do as many 3-day trips as possible before we run out of miles. We are also trying to travel as cheap as possible but still have fun and enjoy the specialties of the city.
We chose Santa Fe because it's only a 1.5 hour flight from Los Angeles so it doesn't use up many points and we love hiking. Honestly, we didn't do much research about the city so we didn't know much about Santa Fe's art scene. I'm usually a planner but not this time. In a way, it made the trip a nice surprise without any expectations. It's easy to spend a lot of money in Santa Fe so it took a little creativity to have a cheap vacation in Santa Fe.
Our Airfare–FREE Using Southwest Rapid Rewards Points & A Companion Pass 
In 2013, I applied for a Southwest Rapid Rewards personal card AND a business card that each came with 50,000 points. I earned an additional 10,000 points during the years which enabled me to get a free companion pass for the entire year so I use the reward points and Bob uses my companion pass. The only thing we pay is a $10 booking fee. (Here's a post where I wrote about getting the companion pass. FYI–Southwest currently has the 50,000 point offer so now is a great time to take advantage of the deal. Southwest offers two versions of the personal cards so you can also get the companion pass that way.)
I know you are saying to yourself you don't want to get into the credit card miles game because you hate credit cards, but if you want to travel on a budget without hitchhiking, there is no better or easier way than earning points and miles on credit cards. (Here is a link that talks about the pros and cons of the credit card game.)
Our Hotel–3 Nights FREE at the DoubleTree using Hilton Honors Points
I applied for an American Express Premier Rewards Gold credit card last year and got 50,000 points. The Amex points are transferrable to a number of different hotel and airline rewards programs but none of them looked like a good transfer value until Hilton was running a limited-time transfer special so I transferred enough to book three nights at the Santa Fe DoubleTree for this trip. I transferred 50,000 Amex points and got 100,000 Hilton Points which was enough for the Santa Fe trip (3 nights at 20,000 points per night) plus a night coming up in Santiago, Chile (1 night at 30,000 points) and I have a few extra left for another night somewhere.
As for the DoubleTree in Santa Fe, it is a nice hotel but it's pretty far from the hub of activity in downtown. I'm not sure I would stay in that location if we ever go back to Santa Fe. The traffic from the hotel to downtown is surprisingly bad for such a small town–it took us about 20 minutes each direction and it seemed like we did this roundtrip at least twice a day. The Hilton in downtown would have cost double the points so the commute is the tradeoff. The hotel had a small indoor/outdoor pool and indoor Jacuzzi, a small workout center and free (slow) WiFi. Other than those features, it was a fairly basic but comfortable hotel.
The Santa Fe Art Scene–FREE Gallery Hopping
I had no idea before we went that Santa Fe is the country's largest art market! There are private galleries everywhere–and I mean that! We spent a few hours wandering on Canyon Road, which is a very-walkable mile-long street with more than 100 galleries, plus an additional 100 galleries within walking distance of Canyon Road. In addition to free galleries, the State Capitol building has hundreds of works of art that you can view for free on weekdays. And the city has 15 museums that are free or have a small fee. We aren't very artistic people but even we could appreciate it; for art lovers I'm sure it's nirvana. We chatted with people who spend weeks or months in Santa Fe just because of the art scene. One resident told us 10 percent of the population makes their living from the art business and another 30 percent are trying. Overall 40% of the economy is based on the arts!
Our Decadent Chocolate Tour
Another thing we didn't know about Santa Fe is how much the city loves chocolate. Bob and I took a half day and did our own chocolate tour hitting several of the cities artisan chocolate shops. Honestly, this wasn't particularly cheap to do but it was very fulfilling! Our first stop was a Kakawa Chocolate House. They specialize in "drinking chocolate elixirs" and gave us as a free sample of each of their flavors spiced with herbs, flowers and chiles, and we settled on small cups of two of our favorite. The cups are small but the flavor is extremely rich and intense. (3 oz. cup for approximately $4.)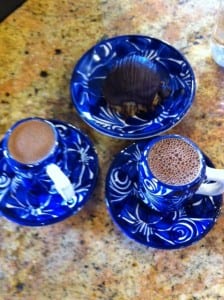 Our next stop was at C.G. Higgins right off the main square. This shop has a wider variety of sweets including brittles, fudge and bakery items. We got cups of drinking chocolate primarily as a comparison for our chocolate research. The cups were larger (5 oz. for approximately $4) but the flavor not as intense as Kakawa's elixirs, yet plenty rich. C.G. Higgins drinking chocolate is very drinkable and could easily become a winter staple in our house. Here is a link to other Santa Fe chocolate shops.
Dining in Santa Fe–Not Cheap but Coupons Saved the Budget
We discovered Santa Fe offers a lot of pricey dining options and not that many cheap ones. Of course, they have the usual cheap chains but we wanted something different. When we picked up our rental car with Advantage at the airport, the representative gave us a dining coupon book. I'm always skeptical of this because I figure they are getting a kickback by sending us there but actually the restaurants offering discounts were impressive according to Yelp reviews. On our way out of Albuquerque we stopped at El Pinto for lunch. This place is truly a landmark in the city having served U.S. presidents and presidential candidates since Jimmy Carter, movie stars, and minor stars. Our coupon was for a free appetizer with the purchase of an entrée. Between the two of us, that was plenty of food so we could save room for dinner.
We also got an Advantage coupon for La Boca in Santa Fe. La Boca is pricey even with a coupon. The chef has won numerous awards so it's probably worth the money but just not in our budget. However, the owners have a casual restaurant called Taberna and I found a Groupon online that gave us $80 of food for $40. The restaurant also has a wonderful happy hour 5-7 nightly with enough food options to satisfy for dinner if you can't find an online coupon. Our dinner at Taberna was great! It reminded us of the tapas bars we went to in Madrid, Spain. The food was delicious, service was friendly and it was a lively scene considering Santa Fe rolls up its sidewalks at 6:00. The lesson here is to always check Groupon. Living Social, Travelzoo and other discount websites for deals in other cities.
Hiking–$5 State Park Day Pass
To be honest, Santa Fe didn't have the great hiking we were expecting but it was adequate for a short day trip. We went to the 4-mile loop at Hyde Memorial State Park about 7 miles northeast of downtown. We had a pack lunch at the top of a small mountain with a gorgeous view of snow-capped mountains in the distance. (Budget Tip–Find a Subway sandwich shop before you head out on the road to the state park. We didn't and had to back track to downtown Santa Fe to buy very expensive deli sandwiches to take on our hike.)
Car Rental–Advantage was the Cheapest but Very Expensive
Most of our vacation budget was spent on our car rental at $45 per day plus taxes. Our rate was really good from RentalCars.com because other sites were about $100 per day. Since you must have a car to get to and around Santa Fe, companies really sock it to you. I recommend booking as early as you can for the best rates.
Our trip to Santa Fe was fun but in unexpected ways since we did no research in advance. The city is full of tons of history (the country's first state capital), has beautiful adobe architecture (the city has been keen on preservation since the early 1900s), it boasts the cleanest air in the country (which I believe–it smelled wonderful!) and is an art-lover's dream.