Free Accommodations in Cusco Peru and Cheap Fun, too!
I have said this many times before in this blog, as soon as you start planning a trip, you need to start racking up the points and miles. We have been in Peru a week, in Lima and in Cusco, and we have stayed for free the entire time thanks to our Starwood points earned through the American Express SPG credit cards. We just use the card for ordinary purchases and we have earned tens of thousands of points over the past year or two.
FREE Night at the Sheraton Lima Hotel & Convention Center
We took an overnight flight from Los Angeles to Lima, which by the way was in business class and free using American Airlines miles. We arrived early in the morning and had pre-arranged a taxi from the airport to the center of town (US$30 through Taxi Green, although no reservation is necessary because they have a booth when you exit customs).
The Sheraton is centrally located downtown and only cost us 5000 points for the night, which is incredibly cheap in the points world. The regular cost of the room was $175 per night. We couldn't check in right away so we walked to the colonial area of town and had lunch at historic Cordano Restaurant & Bar and ordered traditional butiferra sandwiches. Cordano is the kind of atmospheric place where there are more tourists than locals because they read about it on blogs like this. We paid 18 sole (US$9) each for a basic ham and cheese sandwich—by Peru standards, that's too much.
I can't complain about anything at the Sheraton, especially the complimentary pisco sours at the bar. Another nice amenity of the Sheraton is its free shuttle from downtown to the waterfront area of Miraflores. The traffic in Lima is horrendous and the shuttle took 45 minutes to cover the 10 miles to Miraflores. Honestly, I had high expectations of walking around a luxury neighborhood but it was not particularly luxurious except right on the waterfront. We spent the evening eating dinner at a high-end waterfront mall and then heading back to the Sheraton on the shuttle.
I hate to be hard on Lima but I found it grey, dirty and crowded; it was just not our type of city. One night in Lima was enough for us. We woke up early the next day to catch our pre-arranged taxi back to the airport for our flight to Cusco. (US$30 vs. the Sheraton's service of US$100)
FREE Accommodations in Cusco, Peru at the Palacio del Inka
We arrived in Cusco about 10:00 a.m. and faced a barrage of taxi drivers trying to get 50 soles ($18) to drive us into the center of town six miles away. We walked a bit away from the main doors of the arrival area and asked a cab if he would take us for 15 soles, which I later learned was 5 soles too much.
We arrived at the Palacio del Inka, which is a Luxury Collection Hotel, and they had our room right away. It's a lovely room although quite small. I can't believe I think it's small when you consider the alternatives of where we would be staying if we had to pay for accommodations. We are using 10,000 points per night and our fifth night is free. The cheapest rate is $278 per night plus tax. Our original reservation was for three nights using cash & points (5000 points plus $75 and $15 in taxes per night) but while we were in Lima we decided to pay in points and no cash since we have the points. Then, on the third night of our stay in Cusco we decided to change our plans and stay two extra nights because one of those nights is free. With SPG if you use all points for four consecutive nights your fifth night is free. Fortunately via Skype I was able to do all these changes easily by calling SPG reservations. So, we have spent 40,000 points for five nights at a luxury hotel in Cusco rather than $1,390 plus taxes.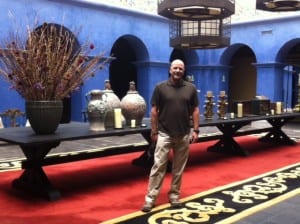 If you don't have points, there are dozens of lower cost options for accommodations. I researched them quite a bit before we decided to use points and many were very nice for $40-50 per night with a private bathroom, flat screen TV, internet and breakfast. My biggest concern was most of the hotels, or hostals as they are called in Peru, don't have very good heat. The only complaint on hotel review sites of most of these hostals was the lack of heat in the rooms. The hostals provide extra blankets but Cusco is very cold at night! During the day it has been around 70 degrees and sunny but as soon as the sun goes down the temperature drops to the 40s. I hate to be cold, so that was the determining factor for us choosing to use points to stay at a luxury hotel in Cusco.
Cheap Fun & Things to Do in Cusco The San Pedro Market
This is where real Peruvians shop! You will find the usual fruit, vegetable and meat stalls but also dozens of fruit juice stands to get a tall glass of almost any kind of juice, and dozens of lunch stands, mostly serving soup. We were there at lunch time and it was packed with Peruvians eating $1 bowls of soup.
Free Walking Tour
Twice a day—at 10:30 and 12:30– there is a free walking tour that leaves from Plaza Regocijo that takes tourists on two different tours. We did the 10:30 a.m. tour around the central district and it was excellent. We tipped the guide 20 soles (US$7.50). Festivals Just walk around the city day or night and you are likely to run into a festival or parade celebrating a saint. In one week we ran into two of them just by chance. Cusco has 13 major religious groups and more than 100 festivals a year.
Paid Guided Group Tours
For 25 soles (US$9) you can take a 4-hour tour to five famous sites in and around the city. The catch is that you have to buy a tourist ticket to get into most of these sites. The tourist ticket is 70 sole (US$26) for the local sites and 130 sole (US$48) for all the major sites within the entire Sacred Valley. The tickets are good for 10 days. It's hard to beat the price of the group guided tour however our guide was very difficult to understand and we only got a basic understanding of the sites. I found it worth the money for the convenience factor alone.
Public Transportation to Major Sites in the Sacred Valley
I think the 4-hour guided local tour was worth the money to see the major sites close to Cusco, however, we decided to go out of the area on our own on public transportation. We walked a few blocks from our hotel to take a collectivo to Pisac, which is a small town 27 miles from Cusco. We paid 3 soles each (US$1) to take a bus to Piscac and although it was slow, it was interesting to mix with local people. Pisac is famous for its market and the archeological site in town. In my opinion, the market isn't worth the trip. It has the same tourist trinkets for sale as in Cusco. The archeological site is worth the trip! I need to qualify that statement, it's worth the trip if you like hiking and have the stamina to hike a very steep mountain. You need to plan on three hours minimum if you want to hike to the top and back. (Entrance is included in the 130 sole tourist ticket I mentioned above.)