Bob and I just got back from a quick jaunt to Las Vegas for 2 nights and 3 days. We got some great deals in Las Vegas on our room, entertainment, and our meals were reasonably priced considering the quality. We travel during the week so the room deals are usually better than the weekend rates but the great deals in Las Vegas for entertainment and dining can be had seven days a week!
We don't gamble more than $20. Here's how we have such a great time for so little money…
Our Hotel–Bally's Las Vegas Hotel & Casino for $28 per night!
We booked some super cheap rooms at Bally's — 2 nights for $57! This is particularly great because at the time of the booking Bally's didn't charge any resort fees unlike most other hotels on the Strip. Unfortunately, the hotel's policy has changed and all rooms will be charged a $20 per night resort fee beginning today.* You can read about finding the best deal among the variety of rates for the same dates in this post.
When we checked in, the receptionist asked us if we wanted to upgrade from the cheaper South Tower to the North Tower for $20 per night more. We declined but when she gave us our room keycards her directions had us going to the North Tower. I don't know the difference between the rooms but our room in the North Tower was very well appointed, modern and clean. The bathroom has granite tile floors and shower, and nice toiletries. Our view was over a parking lot, but we don't really care too much about that. (The Bellagio is worth the money for a fountain view.)
The exterior of Bally's is outdated and it sits to the side and behind Paris, but essentially the two hotels are joined and it's an easy 2-minute walk outside to the Strip or about 10 minutes winding through both casinos and the Paris shopping area.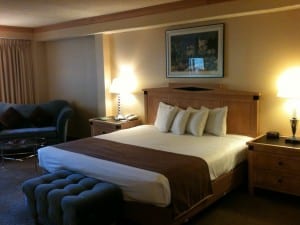 Entertainment–Some Great Deals for Las Vegas Shows
My entertainment experiences in Las Vegas have all been good. Some shows I have liked more than others but none have been bad. In my opinion, if an entertainer has made it to a major casino stage on the Strip, the show is going to be better than average.
We got super discounted tickets for a day-time show to see Jeff Civillico at the Quad Hotel. The usual ticket price is $33-45 but we got 2 tickets for $30 through a Living Social deal we purchased a few weeks earlier, and the ticket did not have any strings attached like a 1-drink minimum. We always start checking out Living Social, Groupon and Travelzoo deals in the towns where we'll be traveling as soon as we book the trip. After the show, you can use your ticket stub to get free tickets (1-drink minimum per ticket required) for Frank Marino's Divas Las Vegas for that same night or save them to use another time.
We got another great deal on a generic comedy show at the Riviera Hotel one night. I say generic because I didn't know who was going to be on stage but the price was right — $10 per ticket with no strings attached. The usual price is $19.00. We got same-day tickets at Tix4Tonight. The show featured headliner Mike Marino with John Bizarre. Both were extremely funny. Tix4Tonight has several locations on the Strip. Most tickets are for same-day shows but if the show is dark that night, you can often get tickets in advance for the following day. The Tix4Tonight website has $2 coupons to help cover the service fee.
One night we decided to treat ourselves to drinks in the bar on the 23rd floor of the Mandarin Oriental Hotel. The bar features floor-to-ceiling windows with absolutely stunning views of the Strip. We each had $10 glasses of wine and they were served with smoked almonds, Japanese rice crackers and wasabi peas. Considering it costs $11.50 for a trip to top of the Eiffel Tower at Paris Hotel & Casino, we truly enjoyed a relaxing evening of great music and pretty good wine at the swanky Mandarin Oriental Bar.
We always like to do a unique diversion since we aren't gamblers. This time we went to the National Atomic Testing Museum on the campus of the University of Nevada, Las Vegas just a few miles from the Strip. We got 2-for-1 tickets from Groupon; $14 for two admission tickets. Growing up in the '60s, I remember the civil defense drills in elementary school, "Duck and Cover!"
The Food–Some Decent Deals in Las Vegas
Most people think of buffets when they think of eating in Las Vegas. But the Strip has come a long, long way in the past 15 years upgrading the food scene. Most of the world's top celebrity chefs have restaurants on the Strip. We've eaten at a few of them and were less happy than we were dining at non-celebrity restaurants. Our favorite places are not really cheap but we feel they offer a good value for the money.
One of our favorites is Mon Ami Gabi at the Paris. It's a typical French bistro but you can't beat the patio dining on the Strip across from the Bellagio fountains. It features very good food and great people watching. It can get very pricey but if you order carefully, it's a good value. The French onion soup ($9.95) and the frisee, kale and warm bacon salad ($10.95) are both almost meals in themselves. Steak frite is about $25 and is usually tender and flavorful.
Another favorite of ours is Canaletto in the Venetian. Everything we've had here has been very good. Bob has tried several dishes and I always get the Cristina pizza with fresh mozzarella, Prosciutto, shaved Grana Padano, mushrooms and baby arugula and white truffle oil. It's $19 but enough to take home half or share. It's not that cheap but it's located on St. Mark's Square in the Venetian with fabulous people watching and scenery. It's almost as good as being in Venice. Almost.
Usually we bring cereal bars and fruit for a light breakfast in our room in the morning but, unbelievably, we forgot this time. The first morning we made a big mistake and paid $17 for 1 hot tea, 1 muffin and 1 dry chocolate croissant in the hotel lobby. What in the world were we thinking! We hardly ever succumb to expensive impulse purchases. Fortunately, for the next morning while I was at Tix4Tonight I got half-price vouchers for the brunch buffet at the Monte Carlo for $8.99. We really aren't buffet people and rarely do we think buffet food is as good as ordering off a menu, but the Monte Carlo was pretty good and since the large breakfast carried us through to dinner, it was a great deal.
Every time we go to Vegas we come back home exhausted from having done so much more than our ordinary, mundane lives. It's one of those cities that pulsates energy. And fortunately, there are tons of great deals in Las Vegas so you can take advantage of them for not a lot of money.