Palm Springs is ON SALE! Of course, that's because it's more than 100 degrees. Those temperatures scare off a lot of tourists but the city is far from dead and, in fact, has a lively local scene. Bob and I just popped over to Palm Springs for a quick trip of 3 days and 2 nights at our favorite hotel, Caliente Tropics. We booked a rate of $40 per night through Hotels.com because we get 3 points per dollar on our Chase Sapphire card. The hotel offered the same rate through the hotel website but bonus points are better. The real purpose of our trip was to look at some rental properties to buy, so we didn't get much time for fun but there's plenty to do even in summer.
The Hotel–Caliente Tropics
We love this hotel because of the value for the money. The only other hotel option at this price is Motel 6, which is where we used to stay before we discovered Caliente Tropics. Caliente Tropics offers nicely appointed rooms in a tropical style, refrigerators, coffee maker in the room with coffee, a large pool, kiddie pool and spa, and a comfortable lobby area. The furniture is a little out dated but the tropical prints and nice bedding help it look a little high end. We've found the other guests to be a pretty broad range of other value-conscious people of all ages.
Our New Fav Place for Dining–LuLu
On our last trip to PS in November we discovered LuLu California Bistro, a popular restaurant and bar that is succeeding in a retail space that has changed hands a dozen times over the past dozen years. LuLu is popular because it's chic yet offers a good value for the money. (As if those two things can't happen together!) We always sit at the bar, which offers happy hour all day and night. Drink prices average $5 and food selections are entrée size priced between $6-12. Every time we have been to LuLu we strike up conversations with other customers at the bar. It's a very friendly bar scene. You can also choose to sit on the sidewalk patio that has plenty of mist machines to keep cool.
Summer Fun in Palm Springs
Golf–Bob played golf one morning on a special deal he got through GolfNow. He played Indian Canyons, the South course for $45 including cart and lunch. His tee time was 7:30 and he finished just as it was getting too hot to play around 11:00 a.m., then had a hamburger lunch in the club house.
Hike–I took a morning hike on the South Lykken Trail behind the Palm Springs Museum of Art. The entire trail one way plus the walk back through the X neighborhood took a total of 2.5 hours. (The museum is also a great place to escape the heat in the summer. The second Sunday of the month is free admission.)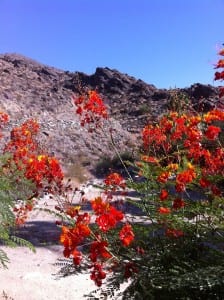 Drive to The Salton Sea–We went to the North Shore of the Salton Sea to look at a rental property on this trip but we have taken a trip to the Salton Sea before and it is a quirky thing to do. One of the world's largest inland seas and lowest spots on earth at -227 below sea level, Salton Sea was re-created in 1905 when spring flooding on the Colorado River crashed the canal gates into the Imperial Valley.  For nearly two years the entire volume of the Colorado River rushed downward into the Salton Trough.  By the time engineers were finally able to stop the breaching water in 1907, the Salton Sea had been born–45 miles long and 20 miles wide with 130 miles of shoreline. The Salton Sea is 50% saltier than the Pacific Ocean and only one species of fish, tilapia, thrives. We've taken the entire trip around the sea, which takes a long afternoon, including lunch at a tiny café in one of the only tiny towns along the way. We chatted up some locals who actually swim daily in the water. On thing for sure is that water stinks!
This time on the way to the Salton Sea, we made a pit stop at the Oasis Date Gardens in Thermal, which has a visitor center and lots of free samples of dates. (Note: The bulk dates are cheaper than the packaged ones.)
Enjoy VillageFest Every Thursday Night–When the sun goes down, everyone comes out to take part in VillageFest,  a weekly street fair down Palm Canyon Drive with bands, food booths, arts & crafts, organic fruits & vegetables and more.
Tons More Free Things to Do–Check out the Palm Springs Visitor Center website for more free things to do in the summer.
Summer in the Desert
When I'm in the desert in the middle of summer I often think about what it was like before air conditioning. Palm Springs has been a popular tourist town since the 1920s (Stroll the Walk of Stars in downtown P.S.) but A/C didn't come around until the 1950s. While dry heat isn't as uncomfortable as humidity, it's still hot. Even so, it's something about the bright sun, brilliant blue sky and yes, the heat, that make me want to slow down and relax. When we're driving from LA on the 10 freeway and we see those wind turbines, we take a deep breath and know our vacation is around the corner. Call me crazy but I really love Palm Springs in the summer.