We just got back from a quick trip to Estes Park, Colorado to visit Rocky Mountain National Park using Southwest Airlines points and Companion Pass. I got 100,000 points at the end of 2013, and a little additional spending earned a Companion Pass that lets me take a friend (my husband) with me for free. This trip to Colorado is the most recent of our once-a-month trips to take advantage of the pass before it expires in December. We chose Colorado because it's a short 2-hour flight and we love hiking. Thanks to summer being low season and Estes Park having tons of lodging options, overall the trip was pretty cheap.
Free Flights on Southwest Airlines
I can't stress enough how wonderful it is to have gotten 100,000 points from two simple credit card applications in 2013. By taking about 10 minutes out of my day, Bob and I got to visit Rocky Mountain National Park using Southwest Airlines points and Companion Pass, in addition to enjoying three other trips this year and more to come before the pass expires. I say "free" but actually we have to pay a $10 service fee per ticket and annual fees of $69 and $99 on each credit card. Trust me, we are getting our money's worth! NOTE: Currently Chase Southwest Rapid Rewards is NOT offering 50k bonus points. You might be able to do a search on Google to find a special 50k offer, otherwise wait for Chase to offer it again in the future–the company usually offers it a couple times per year.
Hotel–Coyote Mountain Lodge $75 Per Night
I selected the Coyote Mountain Lodge on Booking.com almost strictly by price. At the time we booked in advance I think it was the cheapest motel with WiFi. It was completely fine. Not fancy but clean and spacious. They have coffee, tea and packages of instant oatmeal in the morning, which was just enough for us to make it to the trails and our mid-morning Cliff Bar break. The pool was perfectly warm and the Jacuzzi super hot for the first part of our stay but then the staff lowered the temps to a point too cool for us. The only real problem with this motel for us was the terrible WiFi connection; it was very difficult for us to conduct business on our working vacation. We both used our phones a lot because AT&T coverage was good in Estes Park, although there was almost none in the national park.
I noticed during our stay that most of the motels had vacancies (we were there weekdays) so you could probably show up at any of the budget motels and get a good price.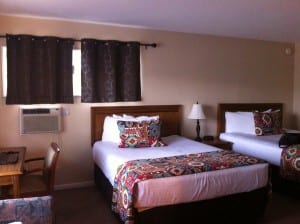 Rocky Mountain National Park & Other Activities
You can't beat our national parks on providing incredible value for the dollar. For $20 a carload of people get 7 days of spectacular scenery, unbeatable activities like hiking, rock climbing, educational ranger programs, museums, swimming, and much more. The value is even better if you are 62 and older–you get a LIFETIME pass for $10! Obviously the national park is the biggest attraction but Estes Park has dozens of other activities for families. It is definitely a family destination. There's no way your kids will get bored!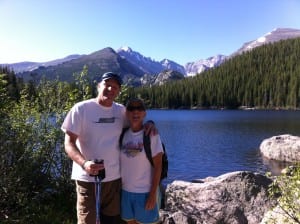 Dining–Lots of Options but Nothing Very Cheap
We ate the complimentary oatmeal from the motel and supplemented it with Cliff Bars on our hikes. For lunch we stop at Subway before we hit the trail with a foot-long sandwich to split. You can't beat a picnic lunch overlooking a mountain lake.
We spent relaxing afternoons at Coffee on the Rocks which has an awesome Happy Hour from 1:00-4:00, including wine and beer, and free WiFi. It has a beautiful patio overlooking a small pond with ducks and even two elk one day!
We dined two nights at Smokin' Dave's BBQ. We each got a beer and huge dinner entrees for $50 (total for both of us) and that included a generous tip because the server was fantastic. That's about as cheap as you'll get in Estes Park in a sit-down restaurant. We ate one night on the patio overlooking the Big Thompson River at Ed's Cantina, which was surprising good and priced about the same as Dave's. On our last evening the town had a free concert in the park so we picked up a bottle of wine at the grocery and a pizza from Poppy's Pizza. Our pizza choice wasn't the best–$26 for a medium mediocre pizza was not worth the money.
What We Loved Most–Estes Park is Big Enough to Have Budget Options
The reason we loved Estes Park so much is because you are only a five minute drive to some of the country's most spectacular scenery. We enjoy all the national parks but most of them are so remote with very little private development. I know that sort of sounds ridiculous but at most national parks except for camping, the accommodations and dining options are outrageously priced. Estes Park is a real town for real people who love nature and don't want to spent a lot to enjoy it.