A Self Driving Safari in South Africa is the Most Affordable Option and the BEST Way!
This post is about my experience doing a self driving safari in September 2018 in Kruger National Park, one of the best parks for wildlife in the world. Yes, it's affordable but I think it's not only affordable, it truly is the best way to go on safari period!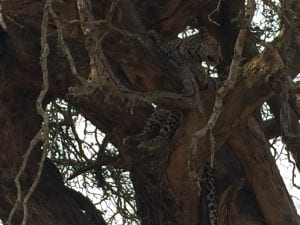 An African safari is a bucket-list item for many travelers. Most people think it's a trip that can cost upwards of $10,000 per person or more, so therefore will always remain on the bucket list. Bob and I have good friends who stayed at the renowned Londolozi Lodge in Sabi Sand Reserve that adjoins Kruger. Londolozi Lodge costs from $869-1,660 per person per night depending on the room. Honestly, that's what I thought a safari would cost until I really started researching the topic and I learned it can cost much less.
Before I begin about our safari trip, let me start by saying that everyone I've ever talked to about their safari was extremely satisfied. Whether someone went to a small private safari park just outside Capetown or Johannesburg, or a luxury game reserve like Londolozi, or self-catered at a national park, everyone loved their experience.
This post is mainly about how to plan a self driving Kruger safari. In a separate post I'll write about the rest of our trip in South Africa. If you have the time, I recommend a minimum of two weeks for a trip to South Africa and a minimum of 3-4 days of your trip in Kruger on safari.
How Cheap Can a Safari Be?
In my research planning our trip, South Africa seemed to be the cheapest place to go on a safari compared to other African countries. In addition, South Africa has a lot of other things we like to see and do like wine tasting and whale watching, so it would provide a really varied vacation experience for us.
Before I get into details, let me provide you with the bottom line cost for two people:
Six nights of accommodation in Kruger, 2 professional ranger-guided safari drives, one ranger-guided safari morning walk, a Wild Card pass for entrance into the park and food–$1,148. Consider this–no matter how much money you spend, no matter where you stay, everyone is looking at the same animals. For the most part, it's the amount of luxury you desire (or require!) that drives up the cost of your safari.
Of course, your next big expense is transportation. In our case, we used American Airlines points plus $248 in taxes for our air tickets but you can often find coach airfare from the U.S. to Johannesburg for under $1000 round trip. Our rental car for two weeks plus gas and tolls was under $300.
So with advanced planning, a one week Safari can cost about $1,700 per person if you get a credit card sign up bonus for the airfare, or cost about $2,700 per person without using miles/points if you mange to find a cheap coach ticket. Of course, this amount will vary depending on the time of the year of your trip, home airport, etc. We traveled in September, which is shoulder season in South Africa and we enjoyed a strong U.S. dollar compared to the South African rand. (US$1 to ZA$14-15)
The Difference Between a Private Reserve and Kruger National Park
Researching our trip, initially I was very confused about what a reserve is compared to a national park. Honestly, it wasn't completely clear to me until I arrived in South Africa. Surrounding much of the South African side of Kruger National Park, there are several private reserves with open borders to Kruger, meaning you go on ranger drives within the reserve's land but animals move freely between all the connected reserves and Kruger. These reserves attached to Kruger are considered "the greater Kruger area."
Each reserve has a number of lodges either owned by the same company or different companies. Before our self-guided safari in Kruger, we went to a lodge in Klaserie Private Reserve for a professionally guided safari for 2 nights. Our lodge had a "sister" lodge nearby in the same reserve but it was more expensive because that lodge offered a more posh experience. Game drives with each lodge went over the same land. Think of lodges in reserves like the variety of hotel brands near Disney World. For example, within the Marriott brand, you can have a Ritz-Carlton, Marriott and Courtyard by Marriott all located within a few miles of each other at very different price points but everyone is enjoying Disney World.
In addition to private reserves with open borders to Kruger and other national parks, there are private reserves completely detached from any national park. The animals in this type of private reserve are confined to wandering within that reserve only. Some of these reserves can be rather small and while they may have all the Big Five animals, their numbers would be smaller. That said, almost everyone we met saw all of the Big Five no matter what kind of reserve they visited, lodge they stayed in or did their own self-drive safari.
How Do You "Self Drive, Self Guide" a Safari?
When I heard about driving on your own on a safari, I assumed it must be incredibly dangerous and very difficult to find animals because nobody is helping you find them. In fact, it's extremely easy to do a self-guided, self-drive safari in Kruger! If you can drive a car, you can do it!
The network of roads within Kruger is fantastic, easily driven on with an economy car. Even most of the dirt roads are in good condition. (We drove on a few that were very bumpy but driveable.)
The number of animals in Kruger is amazing!! We visited in mid-September and within minutes of entering the park, we saw dozens of animals. Within the first hour's drive we saw many elephants, giraffes, Cape buffalo, impalas, zebras, wildebeest and much more. Many of these animals are just a few feet from your car! During our six days in Kruger on our own, rarely did we go more than 20 minutes without seeing animals. We saw all the Big Five (some of them many times) and the only animal we didn't see that we wanted to was wild dogs.
Accommodations for a Self Guided, Self Drive Safari
Within Kruger there are 12 rest camps. Each camp is surrounded by an electrified fence to keep the animals out. All accommodations, shops and restaurants are within the fenced area. You have to be inside your camp gate by 6:00 p.m. and the gate reopens at 6:00 a.m. You can walk within a camp without worrying about dangerous animals.
Each camp has basic but comfortable relatively cheap accommodations. We stayed at three different camps for two nights each. All camps have bungalows and a campground, and some have permanent tents. We wanted air conditioning because September is hot–in fact, we had several days with temperatures over 100 degrees–so we opted for bungalows and we were so glad we did.
Our thatched bungalows in Satara and Berg-en-Dal rest camps had a private bathroom with shower and very comfortable beds. Our bungalow in Lower Sabie didn't have a private bathroom so we had to use a (clean) communal bathroom about 100 feet away. None of the bungalows were in any way luxurious but all were clean, quiet and reasonably comfortable. Here is the link to the Kruger National Park website where you book accommodations.
The Cost of Our Kruger Accommodations:
Two nights in Satara Rest Camp $165
Two nights in Lower Sabie Rest Camp $81
Two nights in Berg-en-Dal Rest Camp $168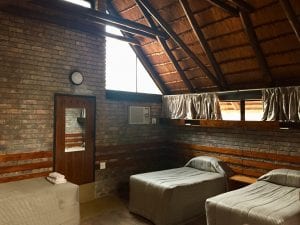 Food in Kruger National Park
Kruger rest camps each have at least one, if not several, affordable restaurants so you don't even have to self-cater. We self-catered lunches with peanut butter, crackers and fruit we purchased outside the park and brought with us in the car during our drives. The food at camp restaurants was pretty good and offered a range of options from salads, burgers and wraps, to steaks and ribs. There were quite a few menu options for vegetarians, although not much for vegans. In general we found the starter/appetizer portions are large enough to be a main course, and the main courses usually large enough for us to share.
Kruger also has some cafes and shops located at rest areas (actually called "Alighting Points") along main roads within the park convenient for lunch and snacks but with limited food options. When we were there it was over 100 degrees and these rest areas became daily ice cream bar breaks. And yes, there are toilets for bathroom breaks. Remember, you can't get out of your car unless you are in an official camp or rest area so you have to plan a bit in advance for your breaks.
Another Option for a Self-Guided, Self-Driving Safari…A Hotel Outside Kruger Gate
The entire national park has 9 gates in different areas to enter and exit. The main gate is Kruger Gate, which has a cluster of hotels outside the gate and a large rest camp just inside the gate.
We met several people who stayed at the Protea Hotel Kruger Gate (part of the Marriott family) and drove into the park during the day for animal viewing. One couple spent about a year accumulating Marriott points for a 7-night certificate including room and airfare. Another couple spent just two nights at the Protea and then a few nights in the park at rest camps. The Protea Hotel Kruger Gate isn't cheap but might be an option for those who really don't want to spend money to stay in a camp and would rather use points to stay for free or for people who don't want to spend a lot at a lodge in a private reserve yet still want a bit of luxury. (I looked up the price at the Protea and our dates were $275 per night for a double.)
The main negative I see about staying at a hotel outside the park is that you are limited to seeing animals only around that gate unless you plan on driving a whole lot and doing a lot of back tracking covering the same roads every day in and out of the same gate. For example, we started at a camp in the middle of Kruger and made our way down to the southern-most portion of the park by the last two nights of our trip where most of the hippos tend to be located. Keep in mind Kruger is vast and speed limits are slow so realistically you are only covering about 100 miles because you will want to pull over and watch the animals all the time.
Game Drives & Game Walks Within Kruger
Some people think you have to stay at a private lodge to get game drives by expert trackers and naturalists…NOT TRUE! Kruger offers game drives and morning game walks from the rest camps. We did several during our stay and they were every bit as good as those we did in the private reserve. Our groups were small (6-10 people) and our rangers very knowledgeable. On average the game drives were $20 per person and our walk was $36 per person.
We did two sunset game drives, which were great because they start at 4:30 p.m. and end about 8 p.m. so you get to see animals at dusk and nocturnal animals after sunset. Personally, I wouldn't bother with the evening drives that start later; our rangers said sunset drives see more animals than night drives.
We particularly enjoyed our morning game walks because it's really something unique to be on the ground walking through the expansive savanna following tracks, discovering trails of blood, walking past bleached bones and coming fairly close to animals while on foot with nothing between you and nature. The walks are about 3 miles long and leave very early in the morning before first light but I highly recommend going on at least one. Here is the link to the activities you can book in advance on the Kruger National Park website.
Planning Your Trip…Start Early!
If you want to stay in Kruger or just outside the main gate, you have to start planning very early. I booked our flights close to 330 days in advance (American Airlines AAdvantage rule) and then immediately booked our Kruger accommodations. We went in mid-September, which I felt was a great time to go because it's considered shoulder season and wasn't during a South African school holiday. When we checked into each camp I asked if there were any last minute bungalows available and there never were so I would not even think about hoping to show up and get accommodations. In fact, the day we left the park was the first day of a school holiday and the line of cars at the gate to get into the park was about 50 cars long. Never go to Kruger on a South African school holiday!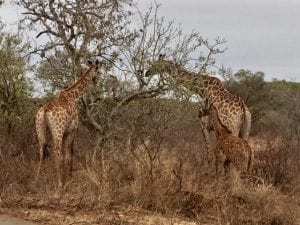 Booking Your Safari on the Kruger Website
The Kruger National Park website has a ton of information on it, almost too much. You can book your own accommodations and game drives and walks online and pay by credit card. You have to start an account and then you can book rest camps. I wasn't choosy about the bungalows I picked because I didn't really know how the camps were laid out anyway so I chose by the cheapest bungalow available. Booking the activities like game drives was more difficult because you are not allowed to go on a sunset or evening game drive on the same day you arrive in a rest camp; you can only book an activity on your second day at the rest camp. The website indicates this but not very clearly. Also, be very careful because several private companies have websites that look official but they are not the actual Kruger National Park website–my link above is the actual website.
The Cost of Entrance into the Park
We Bought a Wild Card
Kruger National Park charges a fee to enter. Daily fees are approximately $22 for adults and $11 for children. For multiple days, it might make more sense to buy a Wild Card with access to Kruger and most national parks in South Africa for a whole year. For one person the Wild Card (for non-South Africans) costs approximately $163 but it's a better deal for 2 people at approximately $255. A family Wild Card is available for 2 adults and up to five children under 18 for $305. You don't have to be related for the couple or family Wild Cards.
We had the luxury of 30 days in South Africa so I planned extra time in Johannesburg to get over our jet lag before getting our rental car and driving to Kruger. We spent 5 nights in Johannesburg using Hilton points at the Sandton Hilton which is too much time for most people but we both caught a cold from the plane in addition to 48 hours of travel time getting from LA to Johannesburg so we really needed the down time before the safari portion of our trip started.
Which Did We Like Better, our Private Safari or Self Guided?
We enjoyed our experience at Africa on Foot in Klaserie Private Reserve but I'm glad we did it prior to Kruger. We saw quite a few animals in Klaserie and our guides and trackers were excellent but we saw more animals in Kruger and our guides and trackers were equally good. Africa on Foot enabled us to relax during the day and to socialize with other travelers in a communal type of experience. While in Kruger we were quite tired from driving a lot and being out all day and some nights looking at animals, and we didn't really meet many people because everyone is going out on their own.
If budget was a bigger concern, I would skip the private reserve and opt for self-guided within Kruger National Park. Our time in Kruger was magical and we felt a spirit of adventure being on our own that we didn't feel being guided and catered to in the private lodge. I'm glad we had both experiences but if we ever go back, we will only do a self-guided safari in Kruger!
My next blog post will be about the rest of our trip in South Africa. Overall, our month in South Africa was one of our most unique and diverse trips we have ever taken.