Bob's online free gambling paid off and we just cashed in his chips for two free nights in Las Vegas thanks to myVEGAS.com. Before I talk about the trip itself, let me explain how you get free hotel nights and much more free stuff in Vegas on myVEGAS.com…
myVEGAS.com
The website and mobile app offers online gambling but you can gamble without spending any money and win real prizes! MyVEGAS just celebrated their 2 millionth member.
When you join the site, you are given chips to start your play. You can choose from slots, poker and blackjack. When you lose those chips you are offered the option to buy chips with money or stop playing. When you stop playing, the site gives you more chips for free a few days later. Eventually, after playing a few months (depending on how much you play) you build up enough points to spend on rewards. I'm sure most people pay for more chips so they have the possibility of winning more, faster but Bob has done just fine using the free chips.
The site has numerous partners including the major hotels, shows, attractions and restaurants that offer freebies and discounts like buy-on-get-one free tickets, stay-one-night-get-one free hotel rewards, free nights, free buffet tickets and more. The more ritzy the hotel, the more chips it takes to get a free night. We, of course, opted to use fewer points and a moderate hotel.
Redeeming rewards isn't quite as easy as the website leads you to believe. We didn't have trouble but we traveled mid-week (many weekends are not available). Also, some hotels don't allow consecutive free nights. After researching we found New York-New York allowed consecutive nights (2) and had quite a few open dates so that's what we booked. I have heard people having trouble cashing in on buffets and attraction tickets because the limited number sells out quickly but with long-range planning and spending time checking the site, you can construct a great free trip in Las Vegas. (NOTE: We had to pay a $20 per night resort fee at the hotel that was not comped.)
Here's the Forum and FAQ page from myVEGAS.com that offers more explanation.
Our Stay at New York-New York Hotel & Casino
We selected New York-New York Hotel & Casino because we could book two free consecutive nights but we also like the location better than Luxor and Excalibur, which are also reward hotels with low point values. Before Bob actually redeemed his rewards, he joined MLife, which is the free loyalty program associated with MGM properties. He then booked online through myVEGAS. We arrived at the hotel at 1:00, just in time for early check-in and we were lucky they had our room ready. Check in was simple and efficient!
Our room was fashionable and in my opinion, just as nice as the room we had at the Bellagio although it was smaller and of course didn't have a fountain view. Regarding the view, it was pretty bad; we looked over the roof of the casino structure and a blank wall. The only other negative was the super slow internet connection. Otherwise, the room was excellent. The regular rate for the two nights we stayed was $115 per night so I was completely satisfied with FREE plus $20 per night for the resort fee.
HERE IS A POST ABOUT OUR LAST TRIP TO VEGAS and we did several of the same things this time. We really love our favorite spots…the Lobby Bar on the 23rd Floor of the Mandarin Oriental and our splurge dinners at Mon Ami Gabi at the Paris Hotel & Casino.
New Revelations about Tix4Tonight…It's Not Such A Great Deal!
In the past we have used Tix4Tonight to purchase discounted show tickets and cheap buffet tickets. It's not always cheaper as we discovered last year when we got tickets to Blue Man Group directly from the box office for less than Tix4Tonight. At the time, I thought that was a fluke but on this trip I realized you have to be very careful and do lots of research before you buy show tickets.
We were looking at the board of available shows at one of the many Tix4Tonight kiosks on the Strip. We had already purchased a Groupon for LA Comedy Club at Bally's (2 tickets for $25) so we needed to find a deal for one more night's entertainment. We were almost going to purchase 2 tickets for $39 for Sin City Comedy at Planet Hollywood (half price off the box office online price) but decided to wait. Literally three minutes later as we left the kiosk and started walking down the Strip, Bob noticed a flyer on the ground–$15 entrance to Sin City Comedy PLUS a free cocktail. Awesome! We decided to go to Planet Hollywood to check out details and right outside the building workers were handing out more of these tickets. Double awesome! So for $30 we got tickets and 2 free drinks.
With comedy clubs, we never know any of the comedians anyway. You have to pay really big bucks to watch well-known headliners like Brad Garrett, etc., but most of the time the comedians we see at these cheap shows are pretty good. They are almost always worth the money.
Our Dining Deals
Our dining deals on this trip were limited. I signed up for promotional texts from Mon Ami Gabi and we got a pre-Valentine dessert for free. I also did a FourSquare check in and got a free beer with our paid entrée at Public House in the Venetian. Our best deal was buy-one-entrée-get-one-free for breakfast at Il Fornaio in New York-New York. It was the best eggs' benedict I've ever had and it was even better for free!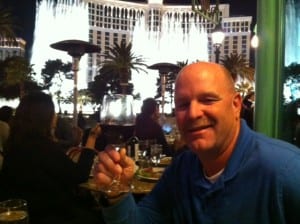 Our Fun Day Away from the Strip–Red Rock Canyon
Since we actually don't gamble, except online for free, we like to get away from the Strip and see more of the area. This trip we went to Red Rock Canyon National Conservation Area about 30 minutes north of the city.
The entrance fee is $7 per car. The park has a nice visitor center, free ranger talks (we listened to a geology talk), numerous hikes and a 13-mile scenic loop drive just in case you are not into hiking. We did a wonderful 6-mile loop hike into a back canyon. It is amazing to find such a remote wilderness (no cell service) just a short drive from the crazy Strip.
Planning Our Next Trip to Vegas with myVEGAS.com
I've already given Bob orders to start gambling more! He needs to learn strategies from myVegas online forums to earn more points in less time so we can travel more often for less money! Our next goal is two free nights plus two tickets to Cirque du Soleil "O."