Our Epic Drive from Ft. Lauderdale to Key West
One of my husband's bucket list dreams was to drive the Highway 1 from the end of mainland Florida to Key West. We got the chance in April 2016 (Yes, I'm posting this late!). We decided to take the trip mostly thanks to the Southwest Airlines Companion Pass, which enabled Bob to fly using points and I used the free pass to fly with him. (More details about the Companion Pass are here.) Key West is very expensive so luckily  we also took advantage of two free nights at IHG's (Priority Club) Crowne Plaza La Concha in Key West.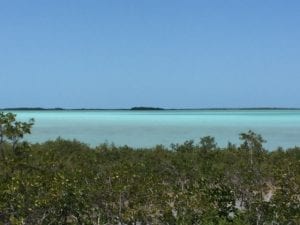 First Night–Homestead, Florida (Just a Pit Stop before the Keys)
We arrived in the late afternoon and originally had booked an Airbnb room ($79 per night) on Key Largo for our first night. Unfortunately, the owner of the Airbnb cancelled our reservation for no reason and everything else on Marathon was more than $125 per night so we decided to stay in Homestead on the mainland at a cheap motel and get an early start the following morning for our epic drive. We stayed at the Fairway Inn, which is similar to a Motel 6. It was relatively clean, had a noisy air conditioner and a very basic continental buffet breakfast, but for $60 what can you expect.
Lunch on the Beach in Bahia Honda State Park
We hit the Publix grocery store on Marathon Key to get some nice deli sandwiches, chips and drinks ($15) and continued down the highway to Bahia Honda State Park for a picnic lunch and swimming. The entrance fee is $8. I had hoped to snorkel but there is very little marine life near the shore; you have to take a boat to reefs off the coast.
Key West–Cuban Food, Good Drinks & a Luxury Hotel
By the time we got to Key West from the long, all-day drive we were ready for a drink. Key West has tons of happy hour places where you can get a good cocktail. Just walk down Duval Street and pick a place.
Finding a good place to eat that is cheap is a more difficult task. We ate at 3 restaurants, two had great food and a good value, and one was highly rated and supposed to be cheap but ended up being the most expensive and worst.
Our favorite restaurant was El Siboney for Cuban food. I have had Cuban food a few times and this was the best I've had,  I'm hardly an expert but the place was packed and it's far off the tourist track. The portions huge (you could easily share) and the atmosphere is very casual. The average entree price is about $13 and beer for $3.19! (The wine was terrible.)
Our next favorite was Caroline's Cafe on Duval Street in the center of the tourist area with a huge outdoor patio. Normally we would not pick a place right in the center of the tourist area, but it got good reviews and we were starving. I asked the waiter what he recommended and it was the "Famous Fish Sandwich." The sandwich was FANTASTIC! I'm super picky about fish because it's often dry and/or fishy but this was excellent. It was a huge piece of fish so I didn't eat the bread. Cost–sandwich with fries–$10. Drinks were on the high side but not outrageous.
The dining disappointment was the highly-rated B.O.'s Fish Wagon on Caroline Street. The place looked promising, meaning it's a joint. But actually, it's a clever method to sell overpriced food to tourists who think they are eating at a hole-in-the-wall joint. We ordered the conch fritters, hog fish and grouper. Everything we had was bland, a smallish portion and expensive (compared to our other dining experiences in town). Cost–approximately $13-15 per fish sandwich, no fries.
Our Hotel–The Crown Plaza La Concha
Lodging in Key West is very expensive so it's a great place to use points if you have them. One affordable option, the Key West Bed & Breakfast , looks fantastic and has a couple of small rooms with shared bath for $125 but requires a 3 or 4-night minimum and you have to book far in advance to snag one of those rooms.  Another option is to just spend a long day bumming around Key West but stay in a small motor inn on a different key. I found a nice looking option, The Edgewater Lodge, on Long Key for $100 per night. Long Key is 1.5 hours to Key West. It's a long drive but if you are looking for a quiet relaxing vacation, you might be better off on Long Key than in Key West anyway. The scenery and water is absolutely beautiful on any of the keys along highway 1.
Fortunately we had points to use for a hotel. Actually, we each had an annual free night from our IHG Priority Club Visa cards. We pay $49 per year to keep the card but I think it's well worth the money when you can use the free annual night in a location like Key West where even dumpy hotels are expensive.  La Concha is located on Duval Street in the center of the action. The room price on TripAdvisor during our stay was $399 per night, which of course we would never pay for a hotel. We parked at the city parking garage for $13 per 24 hours instead of $26 at the hotel.
The room was small but well appointed. It over looked the parking lot behind the building but I prefer that view to a room on noisy Duval Street. The bathroom was very attractive with a huge walk-in shower. As Priority Club members (because of the credit card) we were each given a free voucher for a glass of house wine in the wine bar attached to the lobby.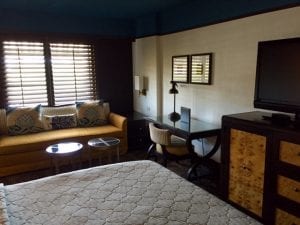 La Concha does not have a pool, however, it allows guests use the pool at The Southernmost House, which is a beautiful Victorian mansion on the water. A golf cart shuttle makes the 5-minute trip about every 20 minute. We were able to squeeze in a few hours lounging at the pool.
Last Night Stay at the Holiday Inn at the Ft. Lauderdale Airport–Great Bar Food!
We drove from Key West straight to Ft. Lauderdale on our last day and arrived about 6 p.m. with an early morning flight the next day back to Los Angeles. I didn't make a reservation for our last night because I wasn't sure if we wanted to stay in Miami or Ft. Lauderdale but we were exhausted from our trip so an airport hotel sounded fine. I booked from my phone on the IHG website and got a room at the Holiday Inn Airport for $125. I found similar prices at many other hotels in Ft. Lauderdale but at least I got points for the stay.  The hotel is not located near anything of interest and far from any restaurant so we just ate at the hotel bar. We almost never eat at hotels but in this case they had happy hour and a pretty large bar menu so it was a good deal. Surprisingly, the food was excellent!
The Keys are Unique and Worth a Trip!
Driving from Fort Lauderdale to Key West is something you only need to do once but it's a great trip to do once! It's a long haul, especially starting in Los Angeles but if you like road trips, it's one of the best in the United States. It's easy to stay on budget on the trip, except for accommodations in the town of Key West but if you plan early enough, you can get a credit card with bonus points and use them to make it a lot easier on the pocket book.