Bob and I had a bad case of itchy feet a few weeks ago and decided we needed to get out of town for a few days. The week after Memorial Day is usually a fairly slow time in our businesses so it's a good time to sneak away from clients. The weather is wonderful so we decided to pick a place we could enjoy the great outdoors. Ten years ago we visited Sequoia National Park and didn't go to King's Canyon National Park, which is right next door. It's only five hours from Los Angeles so it was a perfect choice for a quick trip.
U.S. national parks are NOT affordable if you don't camp.
We camped at Sequoia NP but the days of sleeping on the ground are over for us. For this trip, I booked a room at Cedar Grove Lodge which is the only non-camping accommodations in the actual canyon. The room was $129 per night, which is a bargain compared to Yosemite National Park. I read some reviews on TripAdvisor that warned there is very limited food available; only one cafe with very mediocre food. We planned ahead and brought quite a bit of our own food for breakfasts, lunches and a couple of dinners. Fortunately, we still had some of our cooking supplies and a cooler from our old camping days.
Hello 1970!
I'm not complaining but the "lodge" at Cedar Grove hasn't changed from the 1970s. There are 21 rooms with split-pea green decor, no TVs and paper-thin walls. It was spotlessly clean and it's only steps away from the river. The point of going to a national park is to spend as little time as possible in the room.
Total Isolation
My only complaint, and it's a big one in my world, is there was no wi-fi and no cell service. For many people this would not be an issue but they advertise wi-fi availability and I was depending on it to keep touch with clients. A few employees were able to get on the Internet but no guests that I ran into were able to get online and many were frustrated. The nearest cell phone signal availability is a 35-minute drive back up the canyon near the park entrance.
Our Gourmet Dining
For breakfasts we brought our own yogurt, cereal bars and fruit. For lunches, we made sandwiches in the room to take on our hikes. Dinner on the first night was a riverside picnic of pate, cheese, salami, prosciutto ham, crackers, hummus and crudites. The second night we planned to have grilled (pre-cooked) Hillshire Farms sausage and a pasta mix that you only have to add water and boil, but we decided to try the cafe. Of course the cafe is pricey because the ingredients are schlepped through the park down into the canyon. The food itself is completely average; not bad but not good. Just food. It was a little bit of a hassle to bring and cook but it tasted better and saved money.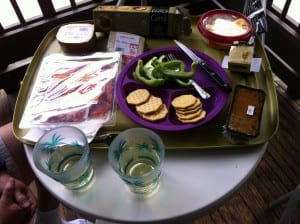 Into the Wild
Our reason for choosing to vacation in King's Canyon National Park was for the hiking. On our arrival day, we did an easy 2-mile flat nature walk on the Zumwalt Meadow interpretive trail. Our second day we did an amazing 9-mile round-trip hike to Mist Falls. The first part was flat but then went up along a creek with outstanding granite mountain views and finally to Mist Falls where we ate our picnic lunch. The trail extends farther into the back country from there but we returned. On our last day we wanted to see some more incredible views but after talking to a few employees we decided too many bear and mountain lion sightings were too much for us. (A hiker got killed a few weeks earlier by a mountain lion near the lodge.) We ended driving out of the canyon to a hike around Hume Lake about 30 minutes away.
Reflecting on King's Canyon & Sequoia National Parks
On our way back home, we took the long way all the way through Sequoia National Park and stopped several times for some short hikes, including one to see the Sherman Tree, the largest living thing on the planet. The drive alone, without stops through King's Canyon and Sequoia to Three Rivers, California at the south end of Sequoia takes about 3 hours. (Incidentally, we thought about staying in Three Rivers and go to Sequoia instead of going to King's Canyon. Staying at Three Rivers would have been a HUGE mistake. The drive from Three Rivers up to the big trees in Sequoia is a very long, winding, steep drive. If you plan to just do a quick day trip it would be fine but don't plan to stay in Three Rivers and spend your time in the parks.)
Overall, I think Sequoia offers more variety than King's Canyon. In Sequoia, you get the big trees plus gorgeous mountain hiking. In King's Canyon all the hikes are either in the bottom of the canyon or up the sides. Sequoia has more options for accommodations and it's easier to get to. That said, I'm glad we went to King's Canyon but a few days was plenty for us and I doubt we will go again.